Advantages and Disadvantages of Ultrasonic Motors
There are numerous advantages and disadvantages of Ultrasonic motors that make them suitable or not suitable for specific application. Let's explore these aspects in detail.

Read More About
Advantages and Disadvantages of Ultrasonic Motors
Advantages of Ultrasonic Motors
High Precision and Accuracy: One of the most prominent advantages of ultrasonic motors is their exceptional precision and accuracy. They can perform fine and intricate movements, making them ideal for applications that require precise positioning, such as in semiconductor manufacturing and medical equipment.
Low Noise and Vibration: Ultrasonic motors operate quietly and produce minimal vibrations, a crucial advantage in applications where noise and disturbance must be minimized, such as in optical systems and microscopy.
Compact Size and Lightweight: Ultrasonic motors have a compact form factor and are lightweight compared to traditional electromagnetic motors. This compactness and weight advantage are especially valuable in portable devices and space-constrained environments.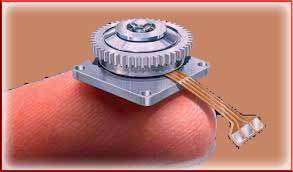 No Electromagnetic Interference (EMI): Since ultrasonic types of motors do not rely on electromagnetic fields for their operation, they are immune to EMI. This characteristic is vital in sensitive environments like medical devices and aerospace equipment where electromagnetic interference can be detrimental.
Energy Efficiency: Ultrasonic motors can be highly energy-efficient, as they only consume power when in motion. This efficiency is advantageous in battery-powered applications, such as consumer electronics and robotics.
Durability and Longevity: Ultrasonic motors have fewer moving parts compared to traditional motors, resulting in reduced wear and tear and longer operational lifespans.
Disadvantages of Ultrasonic Motors
Limited Torque Output: One significant drawback of ultrasonic motors is their limited torque output, especially in comparison to traditional electromagnetic motors. This limitation makes them less suitable for high-torque applications like heavy machinery or large industrial systems.
Heat Generation at High Frequencies: Ultrasonic motors operate at high frequencies to produce vibrations. However, this high-frequency operation can generate heat, which may require additional cooling mechanisms in certain applications.
Complex Control Electronics: Ultrasonic motors require sophisticated control electronics to generate the precise ultrasonic signals needed for operation. This complexity can increase the cost of the system and require specialized expertise for maintenance and repair.
Sensitivity to Load Variations: Ultrasonic motor can be sensitive to variations in the load they are driving. Changes in load conditions may affect their performance and require adjustments to maintain accuracy.
Cost: Ultrasonic motors can be relatively expensive to manufacture due to the specialized materials and control electronics required. This cost factor can limit their adoption in cost-sensitive applications.
Limited Applications: Ultrasonic motors are best suited for applications that demand precision and low noise. They may not be the optimal choice for applications that require high torque, such as heavy lifting or industrial machinery.
In conclusion, ultrasonic motors offer a unique set of advantages, including high precision, low noise, and compactness, which make them indispensable in various industries. However, they also come with limitations, such as limited torque output and complexity in control electronics, which restrict their suitability for certain applications.
To determine whether ultrasonic motors are the right choice for a particular use case, careful consideration of their advantages and disadvantages is essential.
Subscribe to our Newsletter "Electrical Insights Daily" to get the latest updates in Electrical Engineering. You can also Follow us LinkedIn and Facebook to see our latest posts on Electrical Engineering Topics.
Worth Read Posts