Lithium Ion Batteries: Should You Fully Discharge Li-ion Batteries?
Lithium ion batteries are known for their high energy density, which means they can store a lot of energy in a small, lightweight package. In recent years, lithium-ion batteries have become increasingly popular due to their high performance, long lifespan, and low maintenance requirements.
Read More
This has led to their widespread adoption in many different industries, from consumer electronics to aerospace and beyond. In this context, it is important to understand how lithium ion batteries work, what their advantages and disadvantages are, and how they are being used in different applications.
We must first comprehend the fundamentals of lithium-ion batteries in order to determine whether a lithium ion batteries should be discharged. Lithium ions are the key component of the reaction when we examine the chemistry of the lithium ion batteries. Both charging and discharging are distinct reaction processes. Lithium is transformed into lithium ions during discharging when electrons leave the lithium atoms at the anode terminal.
These electrons move from the anode terminal to the cathode via the external circuit. Any form of loading element, such as a laptop, a mobile device, etc., maybe a part of this external circuit. In the lithium ion battery, lithium ions move from the anode terminal toward the cathode terminal through the electrolyte.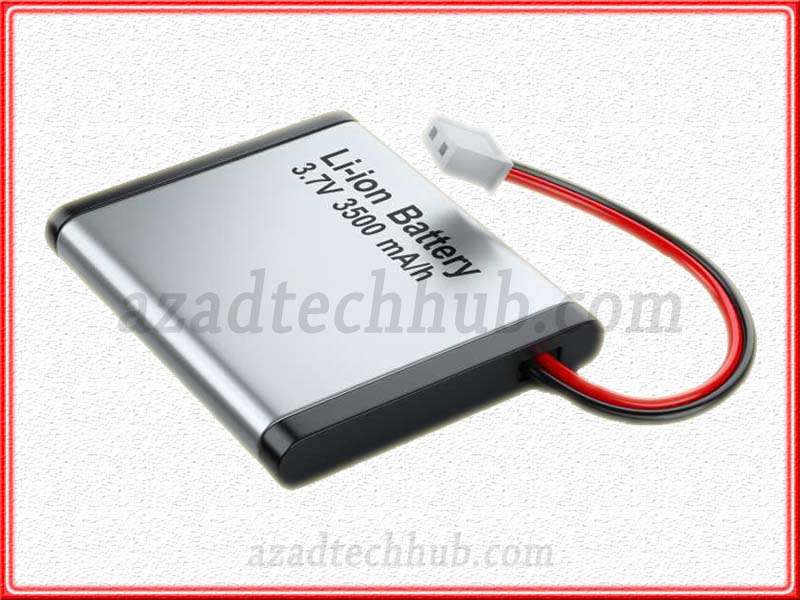 These lithium ions are combined with electrons at the cathode terminal, neutralizing the lithium atoms. A thin membrane divides the cathode terminal from the anode terminal. Lithium ions can flow through this permeable barrier and arrive at the cathode terminal.
Construction of Lithium Ion Batteries
Because lithium is so tiny, lithium ion batteries can store very high voltages or powers. The lithium-ion charge per unit area is high because lithium atoms are tiny.
Consequently, lithium ion batteries have a very high power density. However, power density, which we define as the amount of power produced per unit of mass, is also sufficient. Lithium ion batteries typically have high energy densities while still attempting to retain high power densities.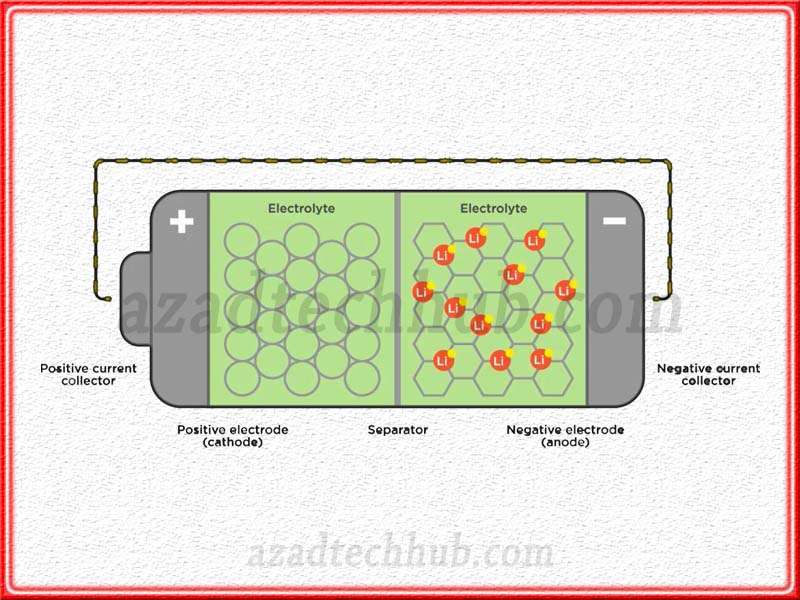 In a lithium ion battery, electrodes can be made of a variety of materials. The cathode of lithium cobalt oxide, also known as LiCoO2, is used in lithium ion batteries in the majority of electronic devices, including laptops and mobile phones, whereas the anode is made of graphite, which is a kind of carbon.
Lithium manganese oxide, or "LiMn2O4", serves as the cathode of lithium ion batteries used in electric or hybrid cars. FeLiO4P, a lithium iron phosphate, may be used in these applications as the cathode terminal. The organic substance "ether" with the chemical formula (C2H5)2O, we typically find as the electrolyte in lithium ion batteries.
Typically, a lithium-ion cell produces between 3.2 and 3.7 volts, which are then added together in series or parallel to produce 48 volts.
Why do we need a 48v Li-Ion Batteries?
The voltages of rechargeable lithium ion battery cells are different from those of conventional lead-acid batteries. As mentioned above, lithium ion battery cell voltages are roughly 3.7 volts; these voltages are then added together to form lithium ion batteries with a 12-volt output.
While a fully charged lead-acid battery cell has a voltage of about 2.2 volts. Fully charged lithium-ion 12-volt batteries have a voltage between 13.3 and 13.4 volts. but the same lead-acid battery with 12 volts equals 13 volts. Lead acid will be at 12.6 volts and lithium-ion will be at 13 volts at a discharge rate of 20.
Small solar energy systems use either 24 or 48 volts to operate. To achieve the necessary voltage and ampere-hours, we must add additional batteries in series and parallel. When compared to a single 48-volt battery, which can readily run tiny systems and can supply more watt-hours, the wiring of systems becomes difficult.
The lithium ion battery has approximately 6000 cycles, depending on the battery's size and ampere-hour rating.
Charging & Discharging of Li-Ion Battery
Charging and discharging a lithium-ion battery involve different processes:
Charging a Lithium Ion Battery: When a lithium ion battery is charged, a current is passed through the battery in the opposite direction to the discharge current. This current causes lithium ions to move from the positive electrode (cathode) to the negative electrode (anode) and become embedded in the anode's porous structure.
As more and more lithium ions store in the anode, the battery's voltage increases until it reaches its maximum charge level. At this point, the charging process is complete, and the battery is ready to use.
Discharging a Lithium-Ion Battery: When a lithium-ion battery is discharged, the opposite process occurs. The lithium ions move from the anode to the cathode, releasing energy as they do so. This energy is used to power the device that the battery is connected to.
As the battery discharges, the voltage across its terminals decreases until it reaches a minimum level. At this point, the battery considers to be fully discharged, and it needs to be recharged.
It's worth noting that lithium ion batteries can damage if they overcharge or discharge too quickly. To prevent this, most lithium ion batteries equip with a protection circuit that limits the charging and discharging current.
This prevents the battery from being charge or discharge beyond safe levels. Additionally, lithium ion batteries are most effective and last longest. When they do not fully charge or fully discharge. Its important to keep the charge between 20-80% for optimal performance and longevity.
Stages of Charging a Lithium Ion Battery.
The lithium ion battery's nominal voltage rating is 3.6 volts, however as it charges fully, the voltages are closer to 4.2 volts. The voltages there are about 3 volts when the discharge cycle comes to a finish.
Four alternative constant current and constant voltage algorithms employ to charge the battery. The following are these stages: There are four stages of charging a lithium ion battery.
Trickle charge:
In this step, a charge rate of 0.1C with continuous current is provided to the battery terminal to charge the battery as the battery declines and the voltages per cell fall below 3 volts.
Constant current:
The battery is charging at a rate of 0.2C to 1C with a constant current during this stage when the battery cell voltages after discharging are greater than 3 volts per cell.
Constant Voltage:
When each cell hits 4.2 volts during full charge, the constant voltage stage activates. At this point, a constant voltage maintains to allow the charge distribution to even out on its own and eliminate the need for any more cell charging current. This boosts the battery's capacity to store charge, which ultimately improves performance.
Charge Termination:
When the battery charging current rate rises from 0.02 to 0.07, this step starts. This step actually determines whether or not the battery charge is full. This algorithm also offers a timer setting option, which stops the charger from charging further after one hour of the constant voltage stage.
You can use either configuration, depending on which is most appropriate for the application.
Types of Li-Ion Batteries?
There are several types of lithium ion batteries available, each with its own unique properties and characteristics. Some of the most common types of lithium ion batteries include:
Lithium Cobalt Oxide (LCO): This type of battery is commonly used in portable electronics such as smartphones and laptops due to its high energy density. However, it can be unstable if overcharged or overheated.
Lithium Manganese Oxide (LMO): LMO batteries are known for their high power output and thermal stability, making them a popular choice for power tools and electric vehicles.
Lithium Nickel Manganese Cobalt Oxide (NMC): NMC batteries are a popular choice for electric vehicles due to their high energy density and long lifespan.
Lithium Iron Phosphate (LFP): LFP batteries are known for their safety and long cycle life, making them a popular choice for stationary energy storage systems.
Lithium Titanate (LTO): LTO batteries have a very long cycle life and can be charged and discharged quickly, making them a popular choice for electric buses and other transportation applications.
Each type of lithium ion battery has its own unique advantages and disadvantages, and the choice of battery will depend on the specific application and requirements of the system.
Drawbacks of fully Discharging Li-Ion Batteries
Fully discharging a lithium ion battery can have several drawbacks, including:
Reduced lifespan: Lithium ion batteries have a limited number of charge and discharge cycles, and fully discharging them can shorten their lifespan. In fact, fully discharging a lithium-ion battery can cause irreversible damage to the battery's electrodes. Which can lead to a significant reduction in its overall lifespan.
Reduced performance: When a lithium ion battery fully discharges , its voltage drops below its recommended level, which can cause a reduction in its overall performance. This can lead to slower charging times, decreased energy output, and other issues.
Safety concerns: Fully discharging a lithium ion battery can also increase the risk of thermal runaway. Which is a rapid increase in temperature that can cause the battery to catch fire or explode.
This is because the electrolyte inside the battery can break down when the battery discharges below a certain voltage level. This leads to the release of flammable gases.
Overall, it is recommended to avoid fully discharging a lithium ion battery whenever possible, and to recharge it before it reaches a critically low level. This can help to prolong the battery's lifespan, maintain its performance, and ensure safe operation.
Each battery has a set amount of cycles that determine how long it will last. The electrolyte substance does not return to its initial state once a battery's cycle count is reaches.
Lithium ion batteries and solar systems can be used together to create an efficient and sustainable energy solution. Lithium ion batteries can store excess energy generated by solar panels during the day and release it when the sun is not shining, providing a continuous source of power for homes or businesses.
Solar systems typically consist of solar panels, an inverter, and a battery storage system. The solar panels convert sunlight into electricity, which is then converted by the inverter into usable AC electricity.
The battery storage system, often a lithium ion battery, stores excess energy that is not immediately used by the system and provides power during times when the solar panels are not generating electricity, such as at night or during cloudy weather.
Using a lithium-ion battery as a storage system has several advantages over other types of batteries. Lithium ion batteries are lightweight, have a high energy density, and are rechargeable, making them an ideal choice for solar systems.
Additionally, they have a longer lifespan and require less maintenance than other types of batteries. Which makes them a cost-effective choice over the long term.
Overall, combining a lithium ion battery with a solar system can help reduce energy costs. They can increase energy independence, and promote sustainable living practices.
Conclusion
In conclusion, while lithium ion batteries can be discharged fully, it is generally not recommended. As it can cause irreversible damage to the battery and shorten its lifespan. Additionally, fully discharging a lithium ion battery can lead to safety concerns such as overheating and even fire. It is important to follow the manufacturer's recommendations for charging and discharging the battery.
By taking proper care of the battery and following best practices for charging and discharging, you can ensure that your lithium-ion battery lasts as long as possible and performs at its best. In order to extend the life of lithium ion batteries, it is advised that the state of charge be between 70% and 95%.
Subscribe to our Newsletter "Electrical Insights Daily" to get the latest updates in Electrical Engineering. You can also Follow us LinkedIn and Facebook to see our latest posts on Electrical Engineering Topics.