What is Knock Sensor? A Comprehensive Guide
In the realm of internal combustion engines, a crucial yet understated component exists: the Knock Sensor. These unassuming devices serve a pivotal function, detecting the subtlest signs of engine knock and safeguarding the vehicle's core mechanisms.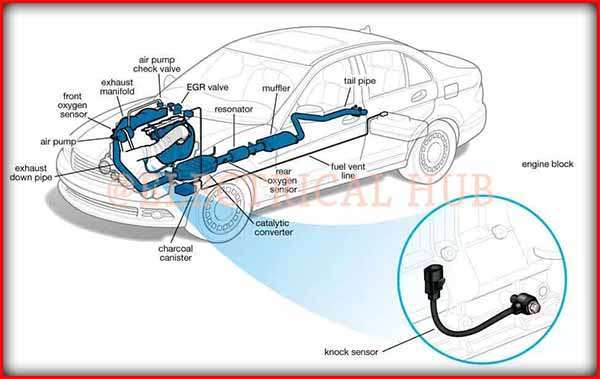 Read More About
Understanding Knock Sensors
Embedded within contemporary internal combustion engines, knock sensors serve as diligent monitors, identifying vibrations indicative of engine knock or detonation. Their primary role involves promptly alerting the Engine Control Module (ECM) to avert potential damage.
Significance in Modern Vehicles
The relevance of knock sensors extends deeply into engine performance. Left unattended, engine knock poses a significant threat, compromising efficiency, power, and longevity. Knock sensors play a crucial role in optimizing the air/fuel ratio and refining ignition timing, ensuring peak engine performance and fuel economy.
Moreover, these sensors collaborate with the ECM to fine-tune the combustion cycle, thereby reducing harmful emissions and promoting environmental sustainability.
Functionality of Knock Sensors
Imaging a compact piezoelectric sensor strategically positioned on the engine block or cylinder head. This sensor operates as an attentive listener, tuned to the high-frequency nuances of engine knock. At the slightest detection, it translates these vibrations into electrical signals, alerting the ECM discreetly.
Subsequently, the ECM springs into action, deploying microprocessors and algorithms to meticulously analyze and adjust the ignition timing, preventing potential knocks from impacting engine performance.
Recognizing Faulty Knock Sensors
A malfunctioning sensor can subtly undermine engine functionality. Symptoms may manifest as reduced performance, decreased fuel efficiency, illumination of the Check Engine Light, and difficulty initiating the engine. However, it's crucial to note that these symptoms may not solely indicate a faulty knock sensor; professional diagnosis is imperative.
Diagnosing and Repairing
Diagnosing a malfunctioning sensor often involves utilizing specialized diagnostic tools or conducting a visual inspection. Diagnostic scanners linked to the vehicle's OBD port can reveal trouble codes associated with the sensor. Meanwhile, visual inspections aim to identify physical damage or wiring irregularities.
Addressing a faulty sensor typically necessitates a meticulous replacement process undertaken by skilled automotive professionals.
Replacing a Knock Sensor
Replacing a knock sensor demands precision and meticulousness. Here's an organized walkthrough outlining the typical steps involved in this crucial process:
Knock Sensor Replacement Process:
1. Assessment and Preparation:
Diagnostic Confirmation: Utilize specialized tools or scanners for a thorough check to confirm if symptoms align with a faulty sensor.
Engine Cool Down: Prior to any work, allow the engine to cool down to avoid potential burns or injuries.
2. Locating the Knock Sensor:
Consultation of Service Manual: Refer to the vehicle's service manual to pinpoint the exact location of the sensor within the engine.
Engine Access: Accessing the sensor might necessitate the removal of specific engine components or parts, such as the intake manifold or other accessories.
3. Replacement Procedure:
Disconnecting Battery: Ensure safety by disconnecting the vehicle's battery to prevent electrical mishaps during the replacement process.
Removing the Old Sensor: Gently detach the electrical connector and remove the faulty knock sensor from its mounting location on the engine block or cylinder head.
Inspecting and Cleaning: Thoroughly examine the sensor's surrounding area for damage or debris. Clean the mounting area to ensure a secure fit for the new sensor.
Installing the New Sensor: Precisely install the new sensor, ensuring a snug fit and securing it according to the manufacturer's torque specifications.
Reconnecting Components: Reconnect any disconnected parts, ensuring all connections are securely fastened.
4. Post-Installation Checks:
Reconnecting Battery: Reconnect the vehicle's battery and conduct a test to ensure the newly installed knock sensor is functioning correctly.
Clearing Error Codes: Utilize a diagnostic scanner to clear any error codes stored in the ECM associated with the previous faulty sensor.
5. Verification and Test Drive:
Verification: Ensure the Check Engine Light is off and reinspect for any abnormal engine behaviors or warning lights.
Test Drive: Take the vehicle for a brief test drive to ascertain that the engine operates smoothly and that there are no recurring previous symptoms.
6. Professional Assistance if Needed:
If uncertain or uncomfortable with the replacement process, consider seeking help from a certified mechanic or automotive professional for a comprehensive replacement.
Concluding Insights
Knock sensors silently stand guard, offering crucial protection against engine knock or detonation within internal combustion engines. Their vigilant operation, in collaboration with the ECM, ensures the integrity, performance, and efficiency of the engine.
While the subtle impact of a malfunctioning sensor may manifest in reduced engine efficiency and warning indicators, prompt diagnosis and precise repairs are pivotal to restoring optimal engine functionality.
Understanding the critical role played by knock sensors unveils their significance in preserving engine health, thereby ensuring a harmonious balance between vehicular performance and environmental responsibility.
Always opt for a replacement knock sensor that matches the specifications of the original sensor to ensure compatibility and optimal functionality. Adhere strictly to the manufacturer's guidelines and torque specifications during installation to prevent any damage to the sensor or engine components.
If the Check Engine Light persists or if issues persist post-replacement, further diagnostic checks might be necessary to address underlying problems.
Precision and accuracy are key when replacing a knock sensor to guarantee the engine's optimal and efficient operation.

Subscribe to our Newsletter "Electrical Insights Daily" to get the latest updates in Electrical Engineering. You can also Follow us on LinkedIn and Facebook to see our latest posts on Electrical Engineering Topics.
Worth Read Posts