Anti Islanding Protection in Solar Inverter: Everything You Need to Know About
Read More About
Solar Energy Systems Basics
What is anti islanding protection?
Anti islanding protection exists in grid-tie solar systems. Residential grid-tied solar power systems are commonly referred to as distributed generators (DG) by electric utility providers. They use this terminology because solar panels are generating and distributing electricity back into the utility grid and we call it net-metering.
So, from now on we will call grid-tied solar inverters DG generators. How a DG generator is said to be islanding? When it keeps supplying power to the system even after the electric utility/grid has already been shut down. Utility employees may not know that a circuit is still "active". They can get a shock of electricity while attempting to perform work on the line, which in fact can be a severe threat posed by the islanding.
Distributed generators must be able to identify islanding and stop supplying electricity to the utility lines right away. Anti islanding is what we mean by this. You can have an idea by seeing the below picture.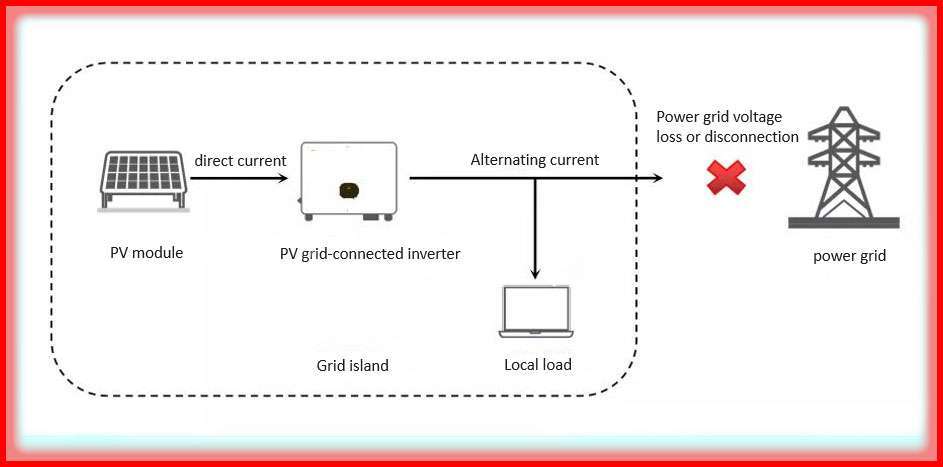 Why do you need anti islanding protection?
One typical myth is the concept that a grid-tied system will keep generating or supplying power in the event of a blackout. But actually, a grid-tied system must stop supplying power back to the grid when the grid goes down.
So, what happens if we install a backup with a grid-tied system?? Which we normally call a hybrid system. Will it supply back to the grid using the backup?? The answer is "NO" until we change the settings of the inverter to supply to the grid using the backup. Hybrid inverters must also have this anti islanding protection to prevent any loss of life on utility lines.
If you want to design solar systems then read our latest article regarding the selection of the solar system by clicking here.
Things Need to know before buying an inverter
If you're considering buying an inverter with anti islanding protection, there are several things you should know first. Anti islanding protection is a safety feature that prevents the inverter from supplying power to the grid in case of any grid failure.
The other thing to keep in mind is that not all inverters have this functionality by default. Some inverters have preferably better anti islanding protection than others. When you're shopping for an inverter, be sure to ask about the level of protection it offers. The more protection, the better. Even you can check the datasheet of the inverter to cross-verify the protection level it offers.
Below is a reference picture of the SUN2000-100KTL-M1 technical protection section for understanding that you must check for this protection.

Finally, but not least, always keep in mind that even with anti islanding protection, you should still be careful when using your inverter during a power outage. Never operate the inverter in an enclosed space, and make sure to keep it away from flammable materials. Make sure there is sufficient air crossing so that it can automatically cool down during high temperatures.
Make sure to disconnect the inverter from the grid and wait for at least 3 to 5 five minutes so that the capacitors inside the inverter discharge properly. Disconnect the DC switch below the inverter, then turn off the AC supply and make sure the connection has been disconnected completely.
Subscribe to our Newsletter "Electrical Insights Daily" to get the latest updates in Electrical Engineering. You can also Follow us LinkedIn to see our latest posts.
How to Design a Solar Project