NSIA Launches $500M Renewable Energy Platform, Signs Pact with IFC for Green Investment
NSIA's RIPLE Initiative Aims to Revolutionize Nigeria's Renewable Energy Landscape
The Nigerian Sovereign Investment Authority (NSIA) has unveiled a groundbreaking $500 million Renewables Investment Platform for Limitless Energy (RIPLE), set to propel Nigeria's renewable energy sector and expand electricity accessibility across the nation.
In a strategic move towards fostering sustainable energy solutions, the NSIA inked a Memorandum of Understanding (MoU) with the International Finance Corporation (IFC), solidifying a partnership that entails strategic investments aligned with the Platform's core focus areas.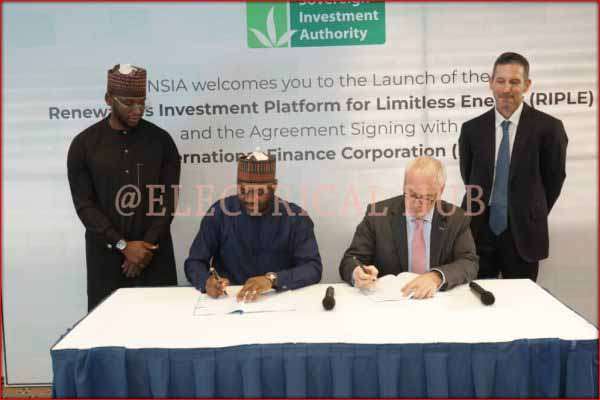 RIPLE, rooted in three pivotal pillars – diesel displacement, franchising, and backward integration towards Photovoltaic system (PV) manufacturing, represents NSIA's ambitious venture dedicated to developing, investing in, and operating renewable energy projects across Nigeria's entire energy value chain.
Terabase Energy's Terafab Platform Marks Milestone in Solar Construction Automation
The pilot project, situated within the Tokarawa Industrial Hub in Kano State, signifies a monumental step. It involves establishing a generation and distribution system capable of meeting a staggering 70 megawatts of unsuppressed energy demand, catering to industrial activities, commercial enterprises, and residential customers across approximately 9,000 connections.
"This marks a turning point in actualizing NSIA's aspirations in the renewable energy realm," affirmed Aminu Umar-Sadiq, Managing Director of NSIA, during the momentous launch in Abuja. "RIPLE holds immense promise in revolutionizing renewable energy investments, positioning NSIA to expand energy access, enhance efficiency, and ensure energy security."
Umar-Sadiq emphasized the initiative's significance as another notable stride in NSIA's commitment to climate sustainability, citing previous impactful ventures such as Carbon Vista with Vitol and the Construction Finance Warehouse Facility.
Moreover, this latest endeavor aligns with NSIA's ongoing efforts to address infrastructure disparities within Nigeria. The Authority's prior initiatives include Infracredit, promoting long-term local financing in infrastructure, the Nigeria Mortgage Refinancing Company (NMRC), refining mortgage provisions, and the Family Homes Fund, enabling developers to access affordable financing for high-quality housing.
Strategic Move: Norwegian Stakeholders Secure 49% Share in Indian Transmission Scheme for Smart Energy Financing
Highlighting the financial commitment, Umar-Sadiq revealed an initial $25 million in funding from NSIA, aspiring to catalyze additional investments to fulfill the $500 million required to execute the Platform's mandate.
"The NSIA and IFC share the ambition to scale up and broaden our impact. We anticipate that our collaborative project development and execution will yield tangible benefits for Nigeria and its citizens," he added.
In the past year, NSIA, entrusted with managing Nigeria's Sovereign Wealth Fund (SWF), has steadfastly prioritized sustainability and climate as integral asset classes, leveraging its impactful capacity and fund management structure.
Source: BusinessDay
Subscribe to our Newsletter "Electrical Insights Daily" to get the latest updates in Electrical Engineering. You can also Follow us on LinkedIn and Facebook to see our latest posts on Electrical Engineering Topics.