Breakthrough Device Revolutionizes Early Detection of Alzheimer's and Parkinson's Diseases
Wireless, Noninvasive Technology Sets Stage for At-Home Diagnostics of Alzheimer and Rapid Treatment
In a groundbreaking leap for medical diagnostics, a revolutionary wireless device has emerged as a potential game-changer in detecting early biomarkers associated with Alzheimer's and Parkinson's diseases.
Developed by researchers at the University of California-San Diego Jacobs School of Engineering, this portable system heralds a new era in neurodegenerative disease detection, offering a noninvasive means to identify crucial proteins in saliva and urine.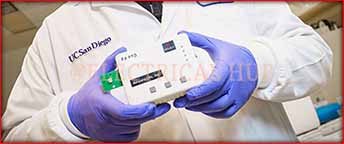 The device harnesses the power of electrical detection to pinpoint specific proteins linked to Alzheimer's (amyloid beta and tau) and Parkinson's (alpha-synuclein). Professor Ratnesh Lal, a co-researcher behind this innovation, expressed in a university press release that this technology enables testing not only at home but also at various care points like clinics and nursing homes on a global scale.
Central to its functionality is a chip embedded with a high-sensitivity transistor, employing DNA to discern amyloid beta, tau, or synuclein proteins. Lal emphasized that electrical detection surpasses chemical methods in ease of implementation and accuracy. Moreover, the device aims to seamlessly transmit test results wirelessly to laptops or smartphones, ensuring swift access to critical information.
Validation of this device came through tests on proteins extracted from the brains of deceased Alzheimer and Parkinson's patients, affirming its precision akin to existing methodologies. Impressively, it remains effective amidst diverse protein compositions due to its operation at remarkably low concentrations, requiring only minute sample sizes.
While detecting tau proteins presented challenges, the device adeptly amalgamates results from all three biomarkers, culminating in a dependable overall diagnosis, as highlighted in the study.
Have You Read?
Strategic Move: Norwegian Stakeholders Secure 49% Share in Indian Transmission Scheme for Smart Energy Financing
UC San Diego has entrusted the technology to biotechnology startup Ampera Life, chaired by Lal without any financial backing for his research. Future endeavors involve expanding tests to blood and cerebrospinal fluid initially in hospital settings and nursing homes.
Ampera Life sets its sights on seeking U.S. Food and Drug Administration approval within the next five to six months, aiming for the device's market availability within a year. With its recent publication in the Proceedings of the National Academy of Sciences on November 13, this breakthrough instills hope for early intervention and treatment of debilitating neurodegenerative diseases.
Source:
Press Release from the University of California-San Diego, Dated November 16, 2023
Subscribe to our Newsletter "Electrical Insights Daily" to get the latest updates in Electrical Engineering. You can also Follow us on LinkedIn and Facebook to see our latest posts on Electrical Engineering Topics.